---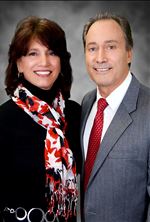 Licensed Associate Broker
Email Me
---
About Me
My wife Helen & I have been Realtors for over 16 years. We love the business and have held positions as Associate Brokers for over 13 of those years. In addition, we have both held careers in retail and financial management. We are currently active in the following:
·

Members of LIBOR

·

Members of the NYS Association of Realtors, Inc.

·

Members of MLSLI & MLSNY State

·

E-Pro Specialists

·

Members of St. Elizabeth Ann Seton RC Church

·

Financial Committee Trustee

·

Pastoral Council Committee

·

Chairpersons of the Fundraising Committee

·

Pre Cana Ministers & Mass Lecturer

·

Members of the Ronkonkoma Civic Association
Testimonials:
"Helen & Sal Sapienza have been our Brokers in the recent sale of our principal residence located in Holbrook LI NY. We consider ourselves very satisfied clients.
They were and are PROFESSIONAL in every respect, with a very PERSONALIZED touch and approach. They far exceeded our expectations and achieved a sale price very acceptable to us, in a very reasonable time frame.
We therefore, would be happy to offer our comments and endorsement to any and all considering this Team for real estate services. Our contact information is available through said Brokers".
Very Truly Yours
"Helen & Sal are very professional, knowledgeable and trustworthy. They found our home very quickly. The process from start to finish was absolutely great thanks to them. We would recommend them to everyone. When we move again, we will be calling on their expertise to help us once more."
Sincerely,
"I cannot say enough about Helen & Sal Sapienza, they made the sale of my mother's house as pleasurable as possible…friendly, professional, answered any and all questions. I felt like I was working with family. I would highly recommend them, they are a great team and I will be using them for my own home sale."
-Jack Stallone
"Helen has been part of my family. She helped me find and purchased my first house. She's been so helpful that she also helped my Sister and my brother-in-law find their first house as well. Helen would go the extra mile to make sure that the whole process would be smooth and easy. I've known her since 2010 and we still keep in touch to this day. I'm so glad and very thankful that I've met Helen Sapienza"
We had an extremely smooth process when we sold our home with Helen and Sal. They were very helpful with pointers on how to stage your home for sale. They were there for every part of the sale from start to finish. They were in contact with us the whole time answering all of our questions. In the end, thanks to them we got a very good price for our home. I would wholeheartedly recommend them to anyone who is thinking of selling or purchasing a home in the future.
-The Flynn Family
Sal & Helen are very professional and knowledgeable. It was a pleasure dealing with them when we purchased our home. They made the entire process easy and painless. They are not only our real estate agents, they became great friends in the process. If we were to ever move, we would definitely use Sal & Helen again and would happily refer them to our friends and family.
-Peter & Anne W.
Very knowledgeable and trustworthy. They are very reliable and took the time to answer every question I had, no matter how big or small. If I ever had to leave a message for them, they always responded quickly. They know the areas that are on the rise or on the decline, which was very helpful as I was looking at a broad range of locations in Suffolk County. I've used them to sell a home and purchase one as well. I highly recommend Sal and Helen Sapienza.
-D & K Ventola
I had the pleasure of working with the Sapienza team. From start to finish they were a pleasure to work with. Helen and Sal were very responsive, knowledgeable, and constant professionals. I would not hesitate to recommend them or use them again in the future.
-Karen Walsh
Thank you so much for a great experience in the sale of our home! It's such a pleasure to work with true professionals who take their job serious and truly care about their clients...These days that's a hard quality to find! We just wanted you to know it was greatly
appreciated.
Thanks, Jerry, Janice & Patsy
My Listings
My Under Contract Homes
My Sold Homes
8 James Monroe Ln

E. Setauket, 11733
$650,000
6 Beds | 4 Baths Full | 0 Baths Half
Lot Size: .55 SqFt
Listing ID: 2956748
194 Connetquot Dr

Oakdale, 11769
$625,000
4 Beds | 3 Baths Full | 0 Baths Half
Lot Size: .44 Acres SqFt
Listing ID: 2764560
7 Ballad Pl

Stony Brook, 11790
$508,000
4 Beds | 2 Baths Full | 2 Baths Half
Lot Size: 19166 SqFt
Listing ID: 3057894
10 Eileen Dr

Lake Ronkonkoma, 11779
$435,000
4 Beds | 2 Baths Full | 1 Baths Half
Lot Size: .21 SqFt
Listing ID: 2960442
274 Hudson Ave

Lake Grove, 11755
$419,000
4 Beds | 2 Baths Full | 1 Baths Half
Lot Size: 0X0 SqFt
Listing ID: 3100189
2 Daell Ln

Centereach, 11720
$405,000
5 Beds | 3 Baths Full | 1 Baths Half
Lot Size: 100X174 SqFt
Listing ID: 2913393
38 Hooper St

Pt.Jefferson Sta, 11776
$385,000
4 Beds | 2 Baths Full | 0 Baths Half
Lot Size: 90X100 SqFt
Listing ID: 3007024
2 Brunswick Rd

Ronkonkoma, 11779
$385,000
3 Beds | 2 Baths Full | 1 Baths Half
Lot Size: .25 SqFt
Listing ID: 3123365
3 Eastbourne Cres

E. Patchogue, 11772
$385,000
3 Beds | 2 Baths Full | 0 Baths Half
Lot Size: 34848 SqFt
Listing ID: 3030592
6 Daniel Ct

Lake Ronkonkoma, 11779
$380,000
4 Beds | 2 Baths Full | 0 Baths Half
Lot Size: 0X0 SqFt
Listing ID: 3048268
11 Mountain St

Lake Ronkonkoma, 11779
$375,000
3 Beds | 3 Baths Full | 0 Baths Half
Lot Size: .25 SqFt
Listing ID: 3075247
10 College Hills Dr

Farmingville, 11738
$355,000
4 Beds | 2 Baths Full | 0 Baths Half
Lot Size: .33 SqFt
Listing ID: 3092594
141 SaxtonCt

Central Islip, 11722
$295,000
2 Beds | 2 Baths Full | 0 Baths Half
Lot Size: SqFt
Listing ID: 3125492
15 Lakeview Ct

Ronkonkoma, 11779
$265,000
5 Beds | 2 Baths Full | 0 Baths Half
Lot Size: 100X100 SqFt
Listing ID: 2771465
3111 Newport Ave

Medford, 11763
$234,900
3 Beds | 1 Baths Full | 0 Baths Half
Lot Size: 0X0 SqFt
Listing ID: 3076460
17 Lake Ave

Ronkonkoma, 11779
$1,750
1 Beds | 1 Baths Full | 0 Baths Half
Lot Size: 0x0 SqFt
Listing ID: 3118651